Phase III Bricks
Phase III Bricks
Brick orders for addition to the Chelmsford Dog Park at Richardson Rd.
Phase III has started!
We will be collecting orders through April, 2020 and placing the overall order at that time.
Order your brick online today!
This time, there is a large selection of dog related clip art to choose from, if you'd like an image on your brick. You can even upload your own logo or image! (Please note, uploaded images must be "clip art"/"line art" style. Photos can not be printed. We did find THIS web script which offers a conversion of images to line art (although we can not vouch for the quality) or you can use Photoshop to do the conversion.)
If you don't want to order online, then you can print-out or pick-up the Bricks Phase III Brochure & Order Form, fill it out and turn it in with a check.
Printable Brochure & Order Form
This fundraiser is Phase III of our brick plans. These bricks will be added to the existing set installed in the Main Entry from Phase I and Phase II (shown below).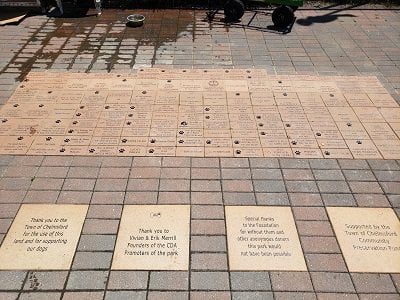 As with previous orders, all funds raised from this phase of brick orders will be used for the maintenance and enhancement of the Chelmsford Dog Park.